Searcher of the new trends: Normcore
Przez niektórych nazywany antystylem , a przez innych manifestem autentyczności. Czym tak właściwie jest tajemniczy normcore?
Some people call it antistyle , and for others it is manifest of authenticity. What exactly is so mysterious normcore?
Nazwa tego trendu pochodzi od dwóch słów normal and hardcore, którą nadała mu grupa prognozująca trendy K-Hole. "Wyznawcy" tego trendu stawiają na naturalność (niewielką ilość makijażu lub jego brak), nie podążają ślepo za trendami i nad wszystko cenią wygodę, a ich myśl przewodnia: "modnie być niemodnym".
The name of this trend comes from two words, normal and hardcore, which gave him a group of forecasting trends K-Hole. Followers of this trend love naturalness (a small amount of makeup or lack thereof) they do not blindly follow trends and above all appreciate the convenience, and their motto: "fashionably be unfashionable."
Birkenstocki do niedawna były symbolem bezguścia, dziś są butami sezonu. Na wybiegi wkroczyły w 2014 na pokazach Givenchy i Celine. Za to na ulicach zagościły dzięki znanym kobietom, które pokochały te buty, są m.in. tegoroczne zdobywczynie CFDA Award w kategorii projektant dodatków Mary-Kate i Ashley Olsen.
Birkenstock shoes until recently were a symbol of tasteless, today there are shoes of the season.Show on the catwalks in 2014 on Givenchy and Celine show . But on the streets promoted by well-known women who love those shoes for example Mary-Kate and Ashley Olsen.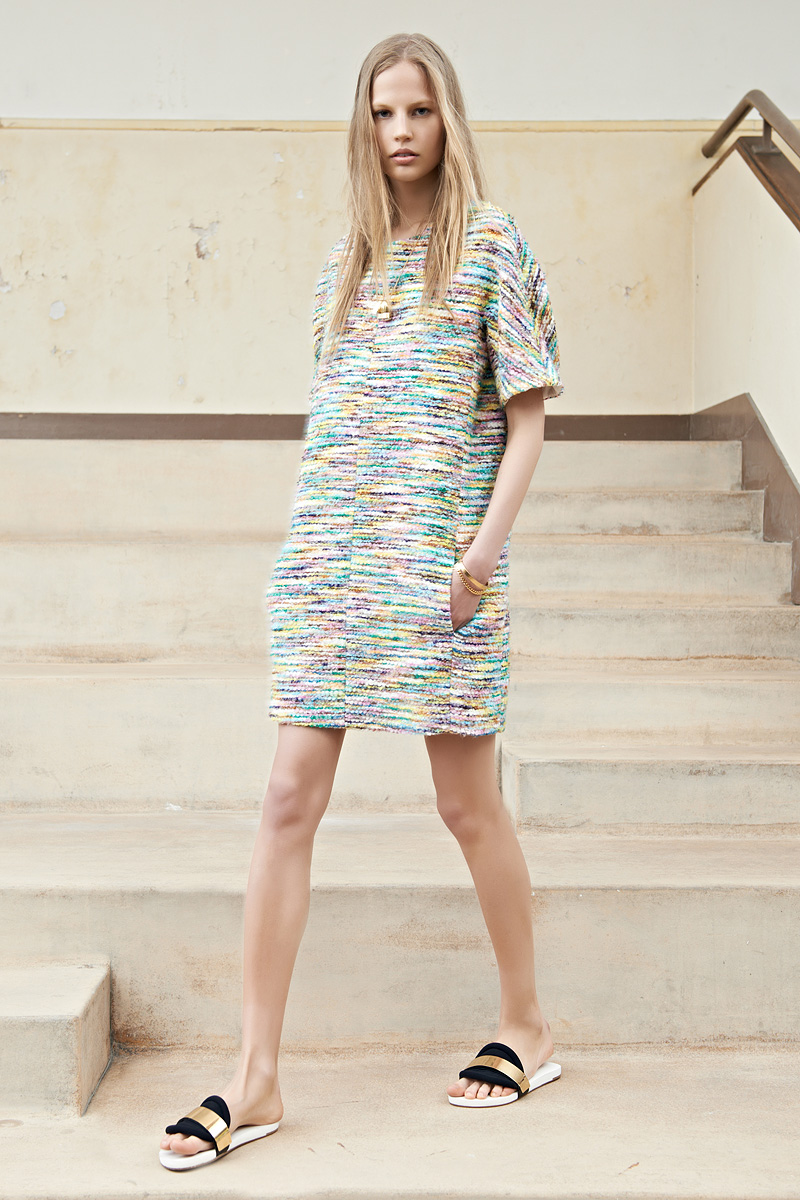 Chloe Resort 2014
Celine Resort 2014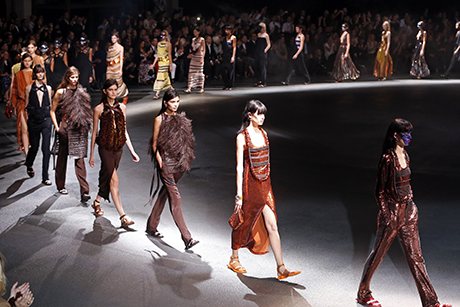 Givenchy 2014
Ashley Olsen
Normocore to nie tylko birkenstocki, ale także jeansy i białe t-shirty inspirowane latami 90, m.in serialem Beverly Hills 90210. O popularności tego trendu dowodzi nowa kolekcja Calvin Klein Jeans z charakterystycznymi jeansami i basicowymi t-shritami. Powodem powstania tej kolekcji było zwiększone zainteresowanie na ebayu ubraniami z lat 90 tej marki. Twarzą kolekcji została Lottie młodsza siostra Kate Moss, która brała udział w kampaniach Calvina Kleina z lat 90.
Normcore is not only birkenstock, but also jeans and white t-shirts inspired by 90 years, for example television series Beverly Hills 90210. The popularity of this trend shows new collection of Calvin Klein Jeans with typical jeans and basic t-shirts .The reason for the creation this collection was increased interest on ebay clothes from the 90s the brand. Face of this collection was Lottie's younger sister, Kate Moss, who took part in campaigns for Calvin Klein 90s.
Moja opinia
: Zdecydowanie podoba mi się
postawienie na naturalność
, której przez długi czas trochę brakowało w modzie. Choć nigdy nie byłam fanką birkenstocków muszę przyznać, że moje podejście powoli się zmienia, kto wie może kiedyś je założę. Co do nazwania tego trendu manifestem autentyczności to nie mogę się z tym do końca zgodzić, ponieważ dla jednych to będzie styl, który wyrazi ich osobowość, ale są takie osoby jak
Anna Dello Russo
, czy
Tamara
Gonzalez Perea
(www.macademiangirl.com), które wyglądałyby w tym trendzie nieautentycznie. Nie jest on też antystylem. Jest trendem, z którego możemy skorzystać lub nie, to od nas zależy czy go "czujemy".
My opinion:I love naturalness in this trend. Although I've never been a fan of birkenstock shoes, but I must admit that my attitude to them is slowly changing, who knows maybe one day I'll wear them . I don't think about this trend as a manifest of authenticity , because for some it will be a style that expresses theirs personality, but there are people like Anna Dello Russo and Tamara Gonzalez Perea (www.macademiangirl.com) will look inauthentic in this trend . It is a trend, which we can use or not, it depends on us.
Normcore in street style: