Focus on style: Alexa Chung
Alexa Chung niczym kobieta pracująca z Czterdziestolatka (legendarnego, polskiego serialu z czasów PRL) żadnej pracy się nie boi. Ma na swoim koncie pracę między innymi modelki, prezenterki telewizyjnej, dziennikarki (od 2009 Contributing Editor w brytyjskim Vogue), prowadzi na kanale British Vogue swój cykl filmów ukazujących kulisy pracy w modzie oraz 2013 roku wydała książkę pod tajemniczym i intrygującym tytułem "It".
Alexa Chung the same as working woman from The forty years old man ( legendary, Polish TV series of the communist era) is not afraid of any work. She worked as a model, TV presenter, journalist (since 2009 Contributing Editor at British Vogue), she is also the host of youtube series on British Vogue channel and 2013 she published a book under mysterious and intriguing title "It".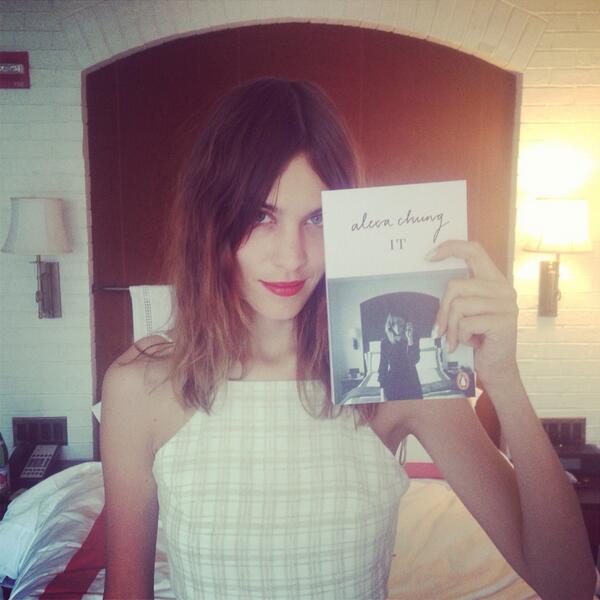 Wśród swoich ikony stylu Alexa wymienia między innymi Jane Birkin z, którą oprócz umiłowania prostoty i subtelnego makijażu łączy fakt posiadanie torby stworzonej specjalnie dla niej. Każdy z nas zapewne zna legendarny już Birkin Hermes-a, na cześć Alexy natomiast Mulberry stworzyło torebkę o nazwie Alexa.
One from her style icons is Jane Birkin,the love of simplicity and subtle makeup in common is to have a bag created especially for her. Each of us probably knows the legendary Birkin Hermes, in honor of Alexa while Mulberry created a bag called Alexa.
W swoich stylizacjach Alexa inspiruję się stylem retro tworząc proste i ponadczasowe stylizację, które posiadają to "coś " co sprawia, że nie da się obok nich przejść obojętnie. Od początku mojego zainteresowania modą styl Alexy mnie urzekał, jednak nie czerpałam z niego zbyt wiele, wraz z upływem czasu obserwuję u mnie tendencję do ubrań inspirowanych jej stylem.
In her styling Alexa takes inspiration from retro style, creating a simple and timeless styling with that "something" which makes styling impossible to ignore. From the beginning of my interest in fashion Alexa's style charmed me, but I didn't take too much from it. Now when my style evolved I start to get inspiration from her style.